Delegation Roster | P2P Website Login | Delegation Yahoo Group | Who's Flying From Where |
techcommchina
Oct. 31st, 2008 11:15 pm October 31, October 31 (The Trip Home!)
Friday morning October 31st began pretty early. Many of us received our wake-up calls at 4:30 am and were expected to board the bus with our luggage at about 5:15 am. Not everyone on the delegation was leaving at "O-Dark-Thirty," but the bulk of the group was. After our Farewell Dinner, the night before, I returned to my room to rearrange and pack. The previous limits for intra-China travel were now changed--we could check 2 bags and they could weigh as much as 50 pounds each! Splendid!!! (as it turned out, neither of my bags even came close).
I finally went to sleep after showering and having everything except my toothbrush, nightshirt, and traveling clothes packed at about 1:30 or 2 am. I had even already checked out of the hotel!
It was a bittersweet morning. Several of the delegates would not be making the flights to Hong Kong and then LAX: Jenny and Bob Redfern were headed to Hong Kong to meet their son, so they'd fly with us only on the first leg. Sherry Michaels and Anne Backhaus were planning to stay in Shanghai for a few extra days. Jean Gonnason and her daughter Kirsten were headed to X'ian on the P2P extension trip. John Martin, Kathy Raker, and Paula Ludmann were leaving much later than us on a direct flight to Chicago. Nadine Croizard and Richard Tufts were flying out of Shanghai at about the same time, but on a different plane because they were headed back to Belgium rather than anywhere in North America!

That meant 11 of us were flying to Hong Kong, and only 9 of us would be on the long leg to Los Angeles. Good-byes and hugs were had by all. Leaving Shawn was the toughest of all. The chances of seeing him again are pretty slim. Yet, he had become our friend and was one of the best things we had connected with in China!
The 8:30 am flight to Hong Kong on China Southern was uneventful--just the way I like my flights! It was a short trip, about 2.25 hours and because Shawn had gotten our boarding passes and oversaw us checking our luggage, all went smoothly. The plane was full, so I was delighted to be in a window seat. When we arrived in Hong Kong we found a much more active place than when we had first seen it on the way over!



As before, we had to stand in a couple of long lines and go through security again just to get to the right plane. When we finally got to the right terminal, we had about 5 hours to wait for our connection. Alexia Idoura and I found some quasi-comfy chairs upstairs near the food court and camped out. We even found a plug so we could recharge some of our electronics! The first thing I did was stand in line at Burger King and get some fries and a Diet Coke!




Although many of my colleagues loved the constant diet of Chinese food, I was not amongst them. I usually eat Chinese food about three times a year. At twice a day for twelve days, I figure I won't be ready for Chinese food until the year 2016!
When we finally went to our gate, we connected with the other members of the delegation who would be on the flight. My seat was again by a window, and again the flight was full. Cathay Pacific has these great seats that allow the person in front of you to lean back without dropping into your lap. The individual TVs had excellent programming, okay games (I never did figure out how to use the controller to play them), and realtime details on the flight's progress toward its goal.


After having flown many, many miles out of the regular flight path to escape stronger than usual west to east winds on our flight over, it was great to have the tail wind helping us get home quickly. The difference was mind-boggling! It took us more than 17 hours to fly from LAX to Hong Kong, and only 12.5 to fly home!
Nonetheless, the hours were adding up: We got up at 4:30 am and it wasn't until about 5:30 pm that we left Hong Kong. Then, add in the 12.5-hour flight, the time for immigration, reclaiming bags, passing thru customs, getting to a different terminal for our connection, rechecking our bags, and waiting for the flight home (about 3 hours for me). Luckily, my flight to San Diego took only 45 minutes, so I arrived at San Diego about 5:30 pm (didn't I already have a 5:30 pm that day?). Then, just to be ornery, let's add the 4.5 hours from midnight to when we got up and the 6.5 hours from the time I arrived in San Diego until midnight that night, and if my math is right, I had an October 31st that lasted 39.5 hours. And, my day was shorter than most! Ahhhh...sweet mysteries of time!
So, after my friend Cher picked me up and brought me home, I was lucky enough to have my daughter, Connie, offer to come over with candy and answer the door for me for the tricker-treaters!


I don't even want to think about what I would have done without her. The doorbell stopped ringing at about 9 pm and she went home soon thereafter. And, although I had been dozing while she was there, all of a sudden I had a burst of energy and I stayed up until about 2:30 am. I don't think my body clock is quite back to San Diego time yet!


OK, in light of all the actual stuff we did, what stayed with me from the trip? What will I carry along in my already quite full memory banks? Here's a short list: The juxtaposition of extremely old and extremely new. The constant ant-like activity of the construction trades everywhere you looked. (I don't think I'd ever seen so many tower cranes in one place! I believe they must hold some sort of record!)
The chaotic traffic and constant near-misses. Our sweet, phenomenal guide, Shawn. The connection and collaboration of our delegation. Not having one single bad apple in the bunch of us! The beauty of Guilin (even in the rain). The fun of walking in the rain. The grandeur and history of the Great Wall. The graciousness of our hosts. The tenacity of the street vendors. The etched faces of the older women in the countryside. The toothless old man who wanted to sell two really ugly turquoise colored Chinese lions. The overpowering surrealism of the whole trip. The gratitude I feel for having been part of it. And, the knowledge that the world truly is minuscule and that we can all coexist if we only open our minds and hearts.
This trip was truly a blessing that I will always treasure. Nonetheless, there's no place like home!


Current Location: San Diego
Current Mood:
thankful

Oct. 30th, 2008 11:59 pm Accenture visit, lunch with our guests, HP-GDCC visit, and our farewell dinner

Today was our last "professional day" on the trip, and we spent the morning visiting with the Strategic Delivery Organization, Greater China, Accenture. This is the company that one of our delegates, Ann Backhaus works for.

Accenture is quite famous in China, perhaps globally. It's one of the "Big 5" in the global consulting industry. In China, they have more than 3000 employees, specializing in four areas: Consulting, Outsourcing, Solutions, and Technical Support.

Our hosts were very gracious, and all three of them, though Chinese, introduced themselves with English names—Simon, Jeff, and Robert. All three were in senior positions in the company.

Simon has about 20 years in I/T and software development. He worked for about two years at IBM in a consulting department. He's been an executive at Accenture for about a year now.

Robert works in the technology consulting area. His group specializes in solving some of the issues currently faced by China CEOs. He graduated from University of Maryland at College Park. He has worked for EDS, AT&T, Bell Atlantic, and Freddie Mac. Of course, with the recent global financial meltdown led by the U.S., and with Freddie Mac recently taken over by the U.S. government, everyone groan-laughed at the mere mention of it. Someone in our delegation said, "So you're the one!" Laughter all around.

Jeff was the junior manager in terms of time at Accenture, starting about six months ago. Before that he worked for Unisys on their outsourcing team. He's a local person, born in Shanghai, lives in Shanghai, and spends his vacations in Shanghai. His specialty area is outsourcing.

The meeting started off with Simon asking us two questions: (1) For how many of us was this our first trip to China, and (2) What have our impressions been of China during our time here? As usual with our group, there was no shortage of people wanting to answer the questions. :-)

Then we asked them some questions:

Jenny: As businessmen in China, what is your main source of business information?

Linda: When you write plans, proposals, and policies and procedures, here in your office, who does that, and what is their background?

Debbie: Do you get involved with RFPs, and if so, how does that work?

We talked about other topics and observations about the similarities and differences in our cultures:

China's "learning from a master" culture.


How the long history affects the rate of change in China.


Engaging employees—both their minds and their hearts.


"Creative" and "people" work versus "logical" and "machine" work.


What today's employees are looking for—not just the salary, but the complete package including the benefits and the company's culture.


What hiring managers are looking for in potential employees, and how to retain employees once they're hired.


Hiring professional coaches for executives.


The best way to train, leading to a discussion on visual communication, and "culturally loaded icons." :-)


A copyright protection discussion, which mostly centered around Microsoft's actions against piracy of its software in China. It's estimated that 50-60% of its software is pirated. It has reacted by launching an anti-piracy tool targeting Chinese computer users to ensure they buy genuine software.
As usual, we concluded our meeting with a certificate presentation to our hosts. Here's Linda presenting to Simon:




We met our guests—meaning the son, daughter, and spouses of the delegates, who are always having "culture days" with the local tour guides—for lunch, and invited our Accenture hosts along, too. We met at Tai Lake Boat Cuisine Restaurant, and had our by now usual family style Chinese food on a lazy Susan with a choice of water, beer, or soft drinks to drink.

Respectfully submitted,
John Martin
Technical Writer, North Carolina State University


---

Following lunch at the Tai lake Boat Cuisine Restaurant, not far from Shui On Plaza where we met with our Accenture colleagues this morning, we boarded the bus again for a drive across the Huangpu River to the Pudong district of Shanghai. Upon arrival, each of us was issued a security badge Visitor Card that we wore around our necks in addition to our P to P name tags, which we typically removed only to go to sleep at night.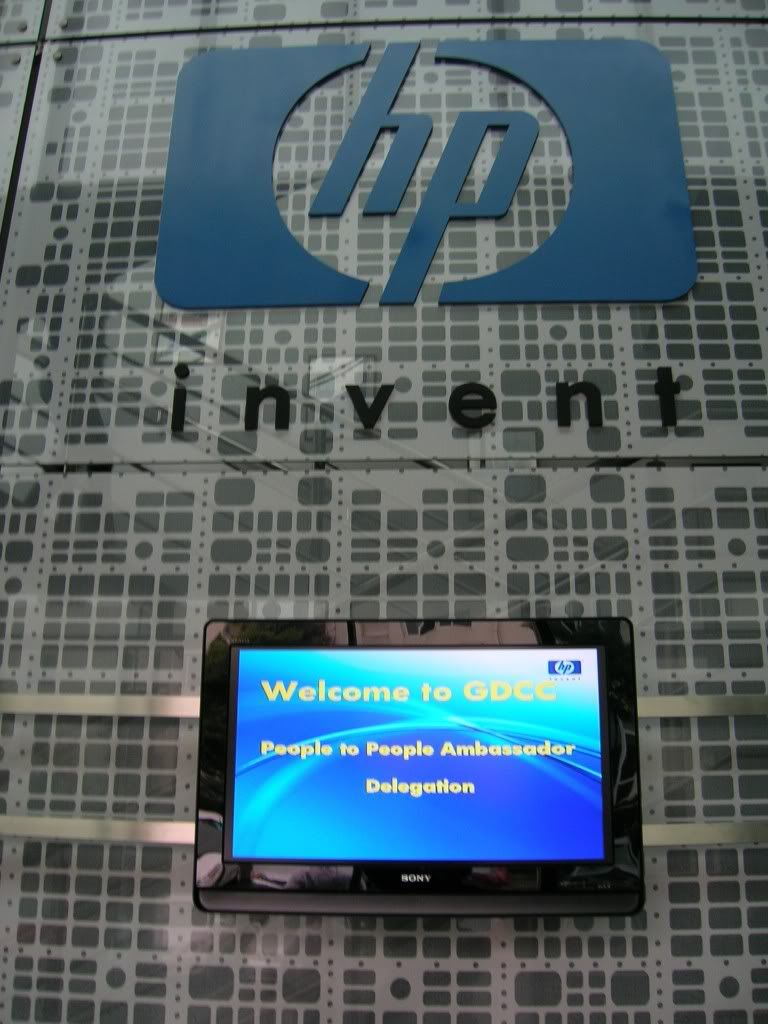 As with most of our professional visits a welcome sign greeted us in the lobby of the building.

Mr. Tim Lin, Marketing Manager, HP GDCC, greeted us and led us to a conference room set up in a casual lecture style with rows of seats and a podium in front. A brief agenda for our visit introduced the discussion. Linda Oestreich, our Delegation Leader and an HP employee herself, briefly introduced the delegation with summaries about each of us and our delegation's mission.

First on the agenda was a short tour of the facility, beginning with a graphical display of the GDCC's history, an impressive one that includes tremendous accomplishments in a very short timeframe.

Historical highlights listed as follows:



2002: GDCC established


2003: Achieved Level 3 CMM (Capability Maturity Model) Certification


2004: Achieved Level 5 CMM Certification / Dalian Center established / HPSoftware Engineering School established by GDCC


2005: Achieved Level 5 CMMI (Capability Maturity Model Integration) Certification


2006: Achieved ISO 9001 Certification / Opened Zhanjiang High Tech Park / Reached 1500 employees / Opened new 5th site at Guanzhou / Achieved PCMM (People Capability Maturity Model) Certification


2007: 5th Anniversary Celebration / Opened the Global Testing Service Center in Chongqing


2008: Currently Shanghai GDCC - home to Software Development, Research and Development, SoE Application Development, as well as several outsourcing projects


Next, Mr. Lin gave us a quick tour that included the Server Center and the developers office area. The low-sided cubes were clustered according to project work. The furnishings, in soft shades of gray and pale green, created a tranquil color scheme for a busy group.

Following the tour, we returned to the conference room and were welcomed by Dr. Andy Lai, Vice President and General Manager SDA, SN Asia. Dr. Lai graciously took the time to speak with us despite the many changes underway in the GDCC following the HP and EDS merger. He especially welcomed his colleague from the U.S., Linda Oestreich. Dr. Lai spoke briefly about the very real need to improve localization and communication by building deeper relationships with global companies represented in China. The growth of global enterprise is expanding very quickly, and the scale of relationships is global, as exemplified by Dr. Lai's own situation: his boss is located in the US, and the GDCC has 3,400 employees in China. The growth is expected to continue for GDCC as well as all economic growth in China because of low labor costs, availability of great talent, and the low cost of living in China. A huge challenge that Dr. Lai vividly recognizes is the necessity for non-Chinese language training so that improvements can continue in stronger communication, especially at the technical levels. He hopes to enhance technical writing efforts in Korean, Japanese, and English for the Chinese writers.

Dr. Lai realizes the rapid growth of technical abilities in China with new construction, new software applications, and more, increases the need for more focus to be placed on the end users of software. That end-user focus drives an increased importance of competence for [technical] writers in the localized language of the end users. He recognizes the need of good English end-user guides and the necessity to build the skills within HP GDCC required to produce them. He applauded the STC Delegation's efforts and endorsed the benefits of exchanging ideas. Dr. Lai hopes to work more with STC in further endeavors.

Dr. Lai shared his experience with a program called "Open Mouth," a volunteer-run language learning program based on the immersion learning method that focuses primarily on speaking. Although English is part of the Chinese standard education curriculum, Dr. Lai said that many official English teachers in China cannot really speak English themselves.

Tim Lin again took the podium to give us an overview of HP and their current vision to Build an enduring high performance culture to excel in application services and more…

HP has an impressive list of credentials, among them the educational levels of their employees, summarized as follows:



BS degree: 69 %
MS degree: 24%
PhD degree: 0.8 %
High numbers of many Software Certifications
487 ITIL Certifications

Areas of focus for HP are very comprehensive:



Communication, media, and entertainment
Healthcare and Life Science
Consumer Industry and Retail
Energy
Financial Services
Transportation
Manufacturing
Government

Testing Service and SolutionsGDCC solutions specifically focus on the following:



Standard Service Architecture
BTO (Business Technology Organization) Based Solutions
BQS (Business Quality Services) Solutions

Next, we were introduced to Allen Song, Manager of GDCC's TCC (Technical Competency Center). The TCC provides advisory services for designated customers, especially US customers. In this capacity, language barriers can be an issue for technical communication across global teams. During the life cycle of each project, full documentation is required for every communication that occurs within the team. Various web conferencing tools are used, and minutes always recorded. These notes and meeting minutes provide the knowledge base for what will be formally assimilated as the final project/product documentation.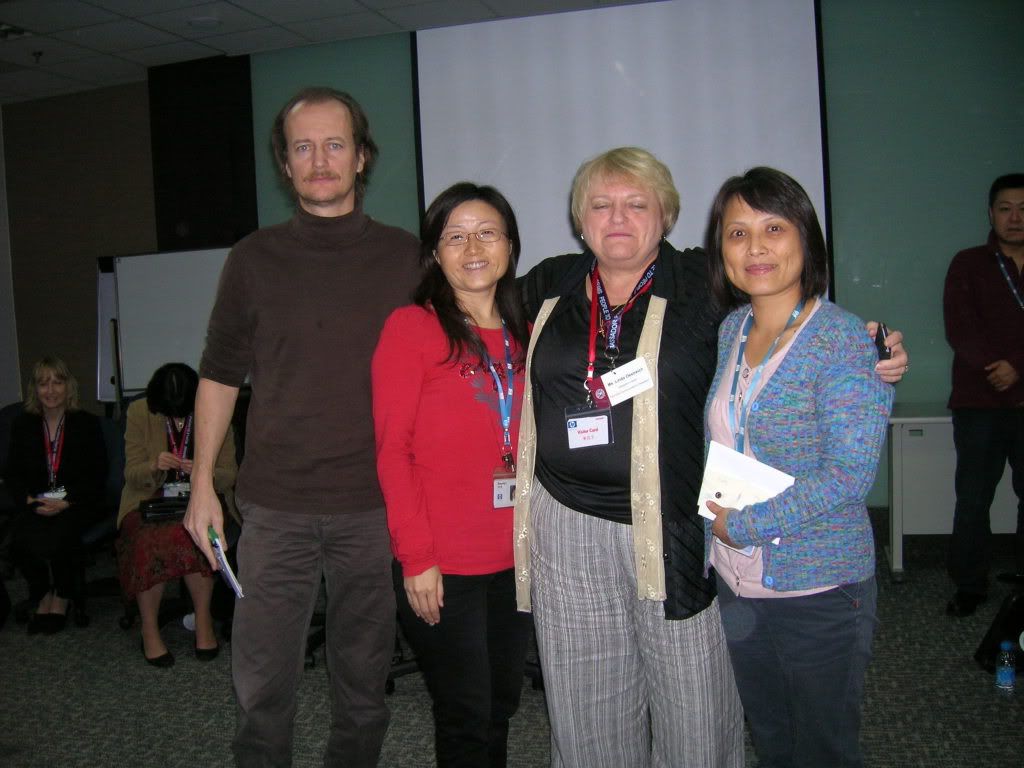 Informal discussion followed, during which the GDCC technical communication team shared some of their concerns and processes. The GDCC writers shared their backgrounds of Engineering and English language studies and building experience on the job, similar to many of us within the Delegation. They also shared that currently their main tool is Framemaker. After exchanging business cards with one another, we paved our departure with the presentation of a plaque and a consolidated package of gifts from each of the Delegates, ending the visit with a group photo.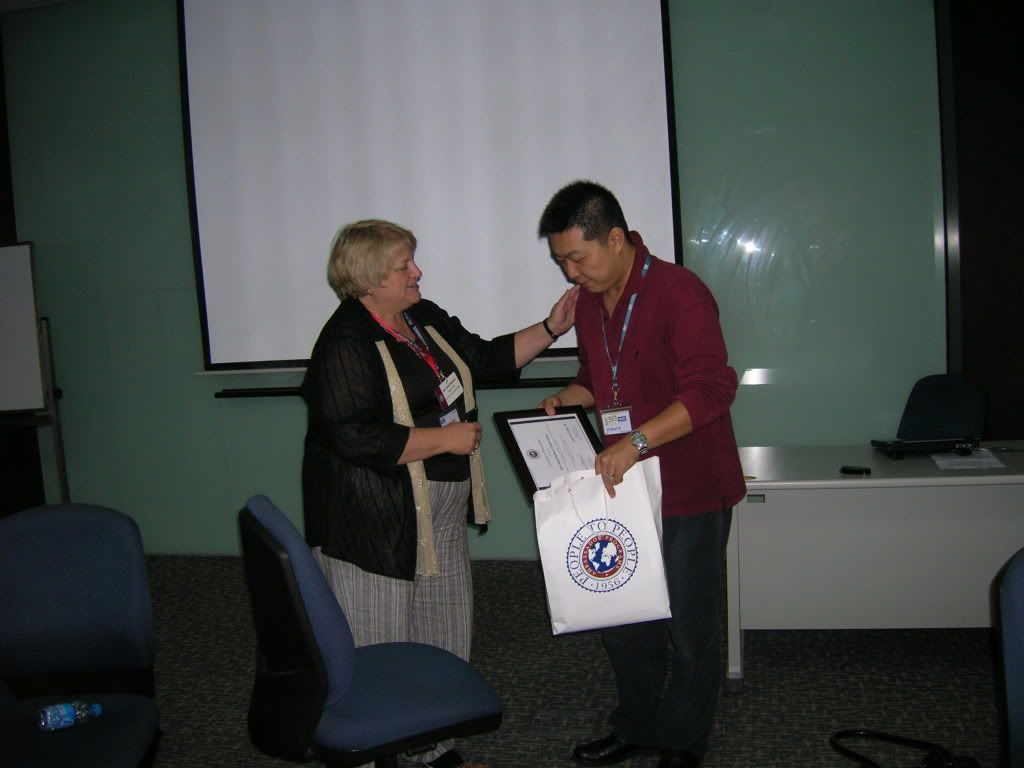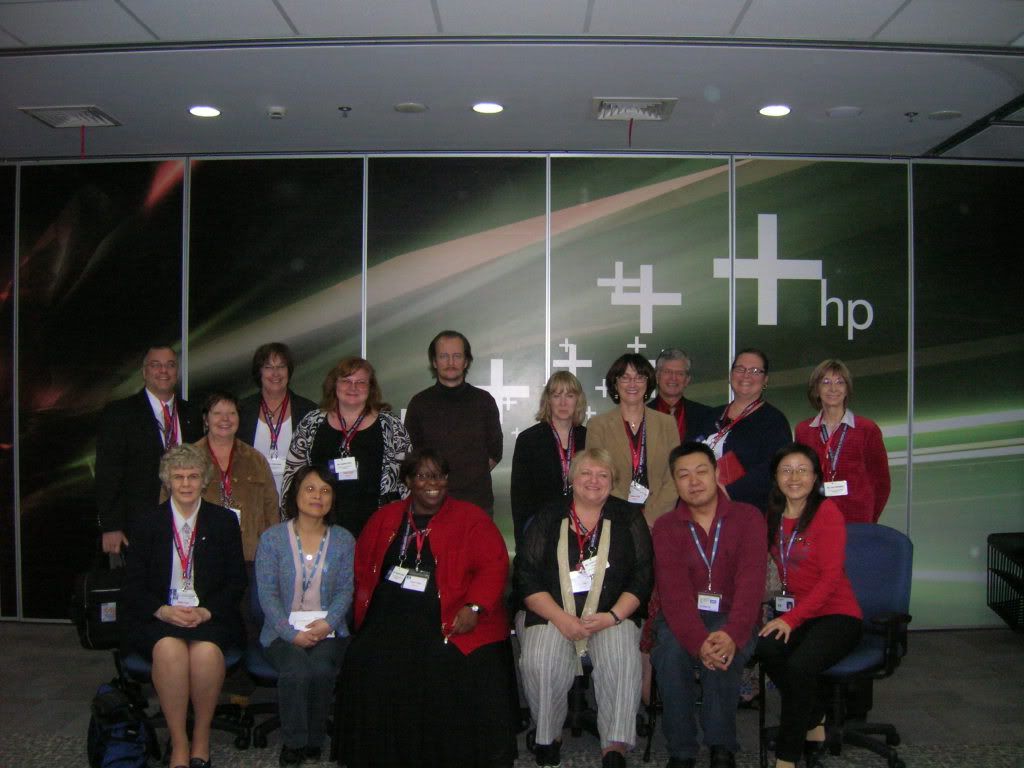 Our last formal gathering as a Delegation was a lovely Farewell Dinner at A-Yat's Restaurant, overlooking the Huangpu River and the fascinating night-view of Pudong across the river on the other bank.

We presented gifts and warm farewells to our National Guide, Mr. Huang Shunqiang, whom we fondly referred to as Shaun throughout the visit.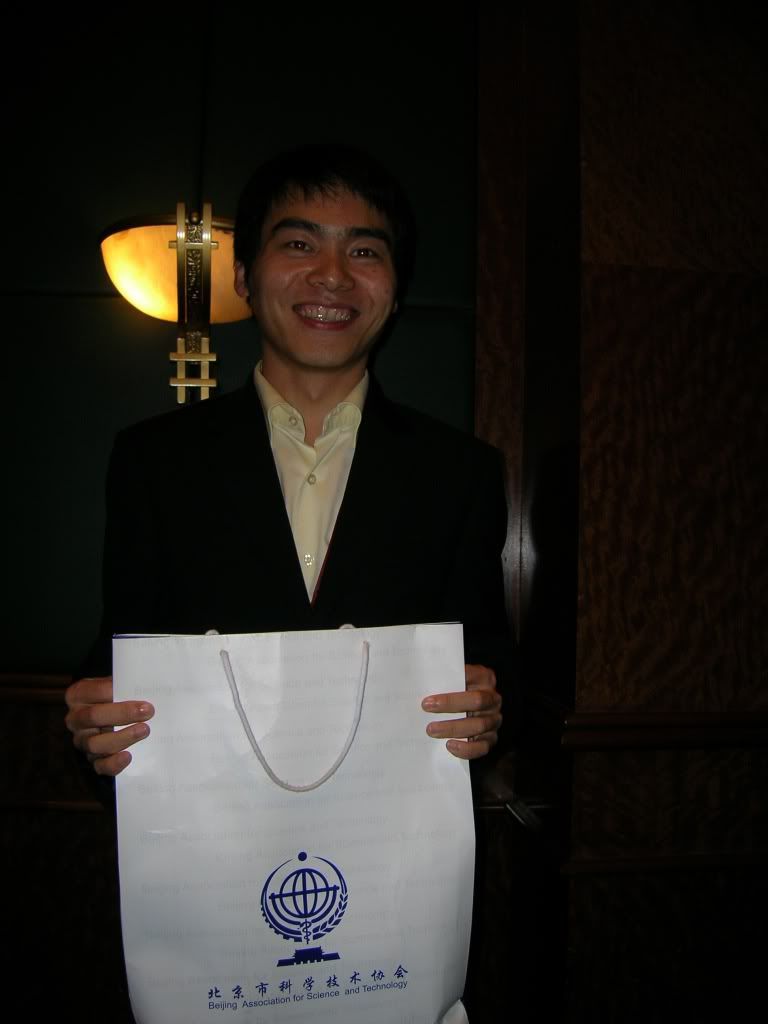 Everyone expressed their affection and sincere appreciation for Shaun and all that he provided throughout our visit – his light spirit and professional demeanor despite the occasional tardiness, technical translation challenge, or whatever adjustment to our agendas.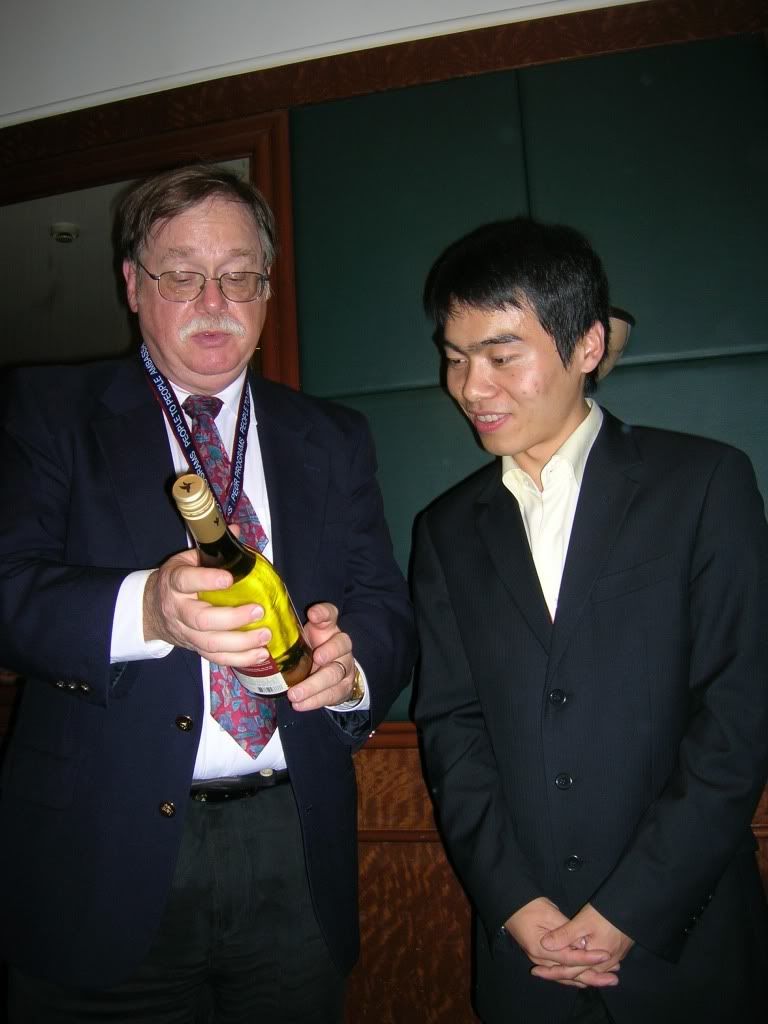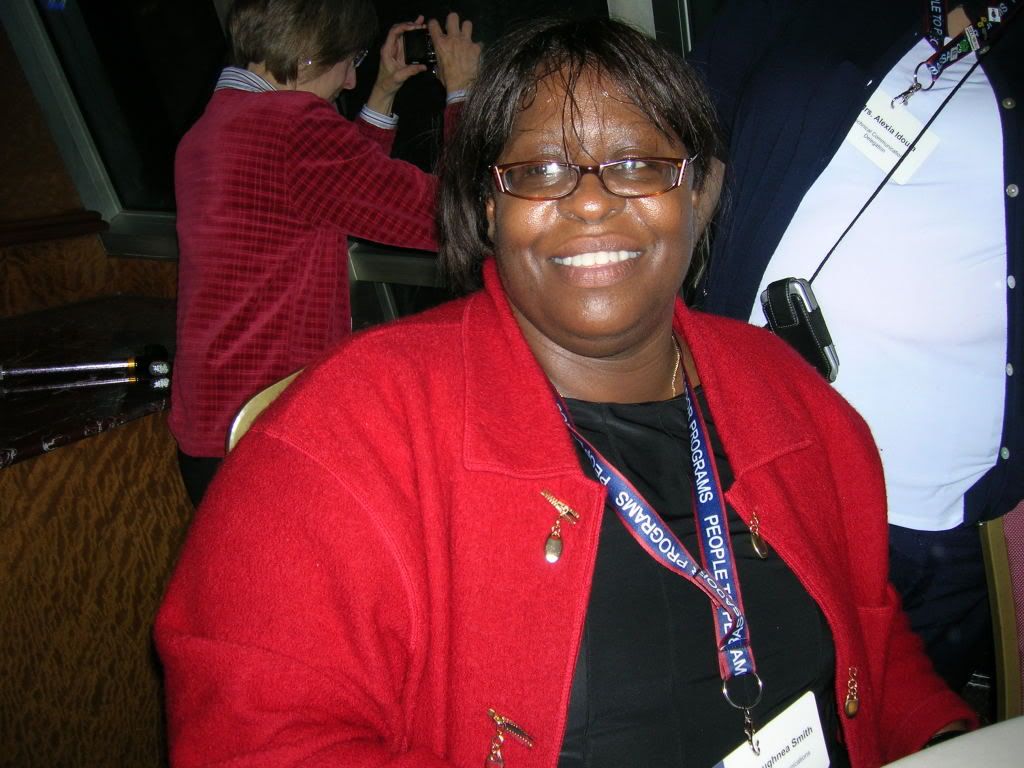 In addition to the farewells, we had a surprise birthday celebration for one of our delegates, Vaughnea Smith. We had a HUGE cake and sang Happy Birthday in several languages, including Chinese, English, French, Indonesian, German, and Spanish.

Although we were physically ready to end the day, there was unanimous agreement that we were not ready to end the moment.
The People to People Technical Communication Professional Delegation to China indeed proved unforgettable!



Respectfully submitted,

Kathy Raker
Manager Systems Training
Molex Incorporated
2222 Wellington Court
Lisle, IL 60532
Oct. 29th, 2008 11:18 pm Shanghai Cultural Day

Today was a cultural day for us, and it began with a wake-up call at 7:30. The breakfast buffet in this hotel, Le Royal Meridien, is unfreakingbelievable. We enjoyed the likes of toast, French toast, pancakes, Eggs Benedict, bacon, fruit, pastries, coffee, four or five kinds of juice and so on.

On the way down to the lobby, the background music in the elevator sounded like a babbling brook. Discussing it later, almost everyone had the same thought when they first heard it: "Oh no. My stomach is not making that noise." How funny.

Today made 3-for-3 with regards to our one "cultural day" in each city being overcast and rainy. It rained the entire day, more at some times than at others, and it seemed to get dark rather early because of it.

Our morning was spent at the Shanghai Museum. Here's one of our delegates (me!) at the entrance:




The museum used to cost to get in, but now it's free. As you can see by the lines, it's quite the popular place:



As technical communicators, we're always interested in the signage. Interesting wording instead of, "Visitors 70 and over."



There was a good diversity of people visiting the museum today. Being a country line-dancer and two-stepper, this "cowboy" caught my eye:



Using the men's room at the museum, I had to raise an eyebrow at this sign on the back of the door inside the stall:



There were four floors of exhibit halls in the museum, and we were provided with recording devices in English, on which we punched a code shown at a particular piece to hear its history. Konrad took this picture of me listening to the background story on these boats:



It's me again... this time communing with the coinage. Thanks to Richard for this photo.



Yep. Me again. Hanging out with the old guys. Thanks to James for this one.



A couple other of my favorite pieces—a "belt tail piece with dragon design" made out of jade and a ceramic "Heavenly Guardian" statue:


---

On the bus ride from the Shanghai Museum to the silk rug factory that was next on our agenda, I read these headlines over the shoulder of Richard (of Richard and Nadine) in the paper that he was reading in the seat in front of me:




At the Shanghai General Silk Rug Factory, we started off with a tour of the factory during which our guide showed us how rugs are made from start to finish. And it all starts with the moth cocoons, from which the silk is derived:



Nothing up my sleeve... presto... silk!



Next, our guide explained a few things about a rug that a lady from Los Gatos, CA ordered a few months ago, on which the lady in this next picture is working:



This young lady has 6 years experience making rugs, and she's considered an expert. Even as an expert, and working eight hours per day, with 10 minutes break every hour to give her eyesight a break, she hooks only five rows of this rug per day. At that rate it will take her eighteen months to finish this 6 foot-by-8 foot rug.

The lady who ordered it is an older lady, in her seventies, and she said that she couldn't wait that long for a rug, so the factory said they would put another girl on it; that is, add a shift and have it done in nine months—to which the lady agreed.

The guide asked our group what we thought a rug like that might cost. Someone said, "$10,000," and the guide said, "Sold! If you'd give that much." It's going for right at about $6,000.

Of course, the tour ended up in the retail showroom of the place, in which several people were hounded until they purchased a rug. I picked up one that caught my eye, and it was small, something like 3 feet-by-1 feet, and the price tag said 3300 yuan (about $532). "For you, 20% off, so 2640 yuan (about $425)," a salesperson said all over me.

As far as I noted, Kirsten, Debbie, and Jenny and Bob bought rugs.

I really liked this one with the pandas on it. This one probably cost two- or three-thousand dollars, if not more:




Right across the breezeway from the silk factory, we had lunch at Dim Sum Restaurant, which was very good.


---

After lunch a couple of people stopped in on the second floor of the silk factory, where they were making cashmere items, mostly sweaters. There was a window through which you could see the workers making the items. They were all standing up at large, loom-like machines working away.

For a reason not understood by me at least, in the hallway of this area, there were three goats (not alive) grazing in some grass (not real). I began to sing, "High on a hill, was a lonely goat herd, yodel-odel-odel-odel-ey-eeh-ho..."


---

We made a quick stop at The Bund.

I'm sure the view from this place would be phenomenal if it weren't as incredibly foggy as it was during the short fifteen minutes or so we were there. However, from this point, you can see across the water, what's called Pudong. Pudong is the financial center of Shanghai, which is the financial center of China. So, in an SAT test, the answer to the analogy might be: "Pudong is to Shanghai as Manhattan is to New York City." :-)

Pudong is also where we will be visiting the Hewlett-Packard office that we're visiting tomorrow afternoon as part of our professional day. HP is also the company our leader, Linda, works for in the U.S. Here's a picture of Pudong on the other side of the water:



Right on the corner near The Bund is the famous Peace Hotel, where the likes of Charlie Chaplin, Noel Coward, and Muhammad Ali have stayed. It has a rich history.



A few other interesting buildings viewed from The Bund:


---

Our next stop was at Yu Garden, which was beautiful in the misty, and sometimes harder, rain. This used to be a private mansion, and the man built this garden for his mother and his family. However his mother didn't live long enough to see it finished. Here are some shots from within:



I really like that dragon's tail "slithering" along the top of the wall.

This tree was in one of the squares in the shopping bazaar we had about 45 minutes in after strolling through the garden:



I finished shopping in about ten minutes, and treated myself to a Dairy Queen (yes, our Dairy Queens!) small vanilla cone 5 yuan—about $.80. Cheap.


---

Dinner was on our own tonight, and I walked through a square near our hotel, during which I was three times offered sex—once with a massage, once without, and once by a woman who actually touched my stomach and said, "Mister, you lonely?"

Uh... no. You got a brother?

I made my way to a Pizza Hut, where I used their 3-step menu-pointing procedure to order my dinner: (1) Point to either Pan Pizza, Think Crust Pizza, or Stuffed Crust Pizza. (2) Point to the size 9, 10, 11, or 12. (3) Point to the variety of pizza; I chose the one called "American Style," which had a picture of a well-populated pepperoni pizza.

"That'll be 15 minutes," she said.

It arrived in 10 minutes, and I guess most of the pepperoni population had moved to the suburbs. There were about three pieces on my 9-inch pizza—not even one piece on each slice. At any rate, it was freaking delicious, and I ate the whole thing, minus the crusts. I got a Pepsi Cola with it, and my total bill was 68 yuan (about $11.00).

A couple of things were interesting about this dining experience:

When I ordered, she said, "That's it? Just pizza?" As I waited for my pizza to arrive, I watched the other tables, and all of them had at least two, and most had three, other dishes that they bought in addition to their pizza. A lot of them were Chinese things that you'd never see on an American Pizza Hut table. They involved noddles and soups and shrimp... stuff like that.


They put an itemized receipt in this little box that was affixed under each table to hold it. As each item was delivered to the table, they pulled the receipt out and marked a line through that item indicating that it has been served. My 12 yuan Pepsi got marked out right away, and when the pizza arrived, a line went through that 56 yuan item.


I was unsure if they tip here, or if it's included in the price of the food. All of my food on this trip until now has been provided by People to People, except my outing to McDonald's the other night, where of course I didn't tip. I ended up leaving a tip here, something between 10% and 15%, just in case.
On the way back from dinner, I stopped into the Hershey's store, where I just couldn't bring myself to pay $10 for a package of six thin, plain, milk-chocolate Hershey bars.

Beyond the Hershey's store, but before my hotel, was a Starbucks. I stepped in, just to see if they had wireless access. Normally, I'd never pay for access, but if they did have it, it would have to have been cheaper than what the hotel was charging, so I would have considered using it. I didn't see anyone with laptops in there.

There was another exit from the place, and in taking it, I found myself in a multi-level mall. I walked around just to see what kind of stores they had, and when I reached the third floor, I looked up from the escalators to see that there were seven levels in all. Excessive.

At the top of the escalator, where I had decided I would just turn around and head back down, there was a bookstore. I took a stroll through there. 98% of the books were in Chinese, but there were two bookshelves whose label said, "Imported Books," so I took a quick gander through them.

One of them was "The World is Flat," which had been mentioned in one of our professional meetings this trip, and which I'd heard of. There was also Covey's "8th Habit," and of all things, a book by coach Dean Smith, the former basketball coach at the University of North Carolina at Chapel Hill. I go halfway around the world and see a book by a guy who lives up the street from me. Strange.


---

Back at the hotel, I wrote out 10 more post cards, and watched a movie on the giant-screen TV in our rooms:




Respectfully submitted,
John Martin
Technical Writer, North Carolina State University

Current Location: Shanghai, China

Oct. 28th, 2008 12:46 am Last stop--it's going so fast!

Whew! it seems like we just got to China, and now we're almost headed home! We flew out of Guilin this morning and arrived in Shanghai at about 12:30. By the time we got our bags and bussed to the hotel, it was almost 2. We had time to explore and rest and do whatever we chose until 5 when we are all to meet for dinner and a Chinese Acrobatic Show. Today was my day to blog, and just in case I'm too tired to do it when we get back tonite, I figured I'd blog this first part of the day.

We were all sad to leave Tan, our Guilin guide. She was a delight. Animated, stylish, and full of wonderful stories. On the way to the airport this morning, she told us about the first time she had met a Westerner. Apparently the headmaster of her grammar school announced that a visitor was coming. All the students worked hard to show this person their work and they studied lots of things in case the Westerner asked them questions. When the Westerner arrived, Tan said that he looked strange, with brown curly hair, a big nose, and sunglasses. She was the lucky student who was chosen to answer the question, "What were the 4 ancient inventions of the Chinese?" She answered correctly that they were paper making, printing, the compass, and fireworks. After the students all got to meet this Westerner, they realized that their headmaster was playing a trick on them! He had one of his friends dress up to resemble a Westerner so that the children would study hard! Tan said she was so disappointed, but at the time had no idea that she would meet so many Westerners when she was older!



One of the things one notices all over China is the construction. Cranes and scaffolding and workers everywhere. In Guilin, all the homes along the road to the airport are painted white. Workers continually paint them to keep them looking good for travelers. Some of the Chinese we met believe the money spent could be better used than by putting new paint on old buildings!

One really nice perk of this trip is that the P2P folks pick our luggage up outside our rooms and then deliver them to our rooms in the next city. Of course, you have to be packed earlier to get that service! (I have had a horrible time being on time in the early morning. Even though each hotel we've been in serves great breakfasts, I've had few. Mostly, i run in and grab a roll and cheese and then eat it on the bus!)

So we arrived at the Guilin Airport and were handed our boarding passes. Then, we marched through security and headed to our gate. The security check for me is much simpler than in the states. My metal knee is noted, and they do run the wand over me, but the search is much more cursory than I'm used to. They are also not so worried about touching me as the TSA agents are. TSA agents always ask if it's OK to touch me and explain what they are going to do. Here in china, they just do it.

We flew China Southern from Guilin to Shanghai. It was a 2.5-hour trip. China airlines still feed their passengers! We had a lunch of something like General Tso's chicken, rice, peas, a roll, and a small piece of sponge cake. when we got to the airport, we all headed for the baggage claim, with a stop at the restrooms. One thing is for sure: I have never traveled with a group that spent so much time talking about bathrooms! Is it Western? does it have T.P.? are two questions we all want to know. Over here, you learn to travel with your own T.P. Otherwise, you might be in trouble. And, although most of the restrooms we've found have at least one Western toilet, a few have not. I did have to squat once when I was too desperate to wait until the next stop.

Shanghai greeted us with clouded skies. We're not surprised. So far, our main culture days have been rainy or misty. Our days of meetings have been sunny and bright! (Oh well!) We met our new city guide, Annie (I don't remember her Chinese name yet), and she gave us a bit of information about Shanghai as we drove from the airport to our hotel.



We're staying at Le Royal Meridien Hotel, and it's the nicest yet. (the other two were also quite nice!) But the amenities are more expensive. It costs 120 yuan (about $18) to get internet connection for a day! Oh well. In the scheme of things, it's not bad. Here's a picture of my room:


Shanghai has about 17 million people in it! And, it's the 2nd largest city in China! (The first is one that I've never heard of and can't remember.) Although Beijing was laid out quite symmetrically, with 5 ring roads around it (similar to the beltways around Houston), Shanghai was built in bits and pieces and has few long, straight thoroughfares. Here's the view from my hotel windows (which, by the way look out on two sides of the building! This view shows Nanjing Road, a major shopping area--mostly with Western stores.


And here's a picture I took from the bus. It shows one of the big parks that they recently built. That reminds me...Shawn will often say, when telling us when things were built, "it's really old, about 7 or 8 years old!" Of course that's not when he's talking about remnants of old city walls, or the Great Wall, or things like that, but houses, offices, and other business buildings. It seems so much is so new, that when things are 7 or 8 years old, they seem old to him! Sigh. Here's the park and more buildings...



Well, I've used up most of my free time messing with this blog, so I think I'll quit for now. Can't believe that I'll be headed home 3 days from now. It all went just too, too fast.

Blessings Everyone!
Linda Oestreich
Current Location: Shanghai
Current Mood:
grateful

Oct. 27th, 2008 07:42 am Guilin: Hunter Information Industry, rivers, gardens, and Software Programmers

Our morning professional meeting was with Hunter Information Industry Co., Ltd, in Guilin.

We were welcomed by Mr. Jiang Tai, Board Chairman and General Manager of Guilin Hunter Information Industry Co., Ltd, who is also a professor of Guilin University in the Department of Electronic Sciences.

Their interesting logo includes an upward pointing arrow as the cross-bar in a sylized "H", representing hunter, highway, and hero. In the 21st century, competition is very fierce, so they need to be hunters - innovation is important.

Highway is the information highway.

Hero in the information industry.

The red triangle stands for the arrow of the company.

He said that they have to find their own characteristic in the sea of industry.

They want to be the leading company of the high tech industry in Guangxi province.
They are the software export base and the industry base for IT. By 2015, they want to have annual sales of 300,000,000 Chinese yuan, and tax revenue of 60 million yuan. They want to be the model for importing high tech from overseas companies. Passed ISO in 2006.

The company set-up is the modern corporate business model, similar to western companies. Seven departments, including R&D, financial, human resources, marketing.

Their main fields of business: software outsourcing (main customers from Japan, USA); product development (RFID - technology and reader); information service (developing products).

Many customers use their software, including MS, Autodesk, ERP, PDM/CAPP.

Web site =
www.gdhtcom.cn


12 people met with us, including three project managers of software department, two from Guilin University Department of Electronic Sciences.

Linda introduced the STC organization and we introduced ourselves.

They have a group of people in charge of tech communication, but their writers seem to be SMEs. Their background is in three areas: software development (including audience analysis), procedures documentation, testing documentation (quality control). The people in charge are computer science grads; in other departments have similar document management groups.

Their training department has two areas, one focused on employee training, including technical and administration training. The other area is a special training program for students and teachers (especially) of universities, all of whom can take part in software development. The intern programs are mainly in R&D, and focus on software development and communication.

Their process for gathering usability information -- after introduce product to market, have customer feedback for improving it.

Mr. Jiang asked what the influence to the global IT market would be from the sub-prime problem in the USA.

Our consensus about Hunter -- it has a good product and documentation will be needed anyway. Outsourcing companies always have a chance anywhere if their product is good.

Mr. Jiang said that India has a small domestic demand, whereas China has a huge domestic demand and market. India has more language and cultural knowledge of the west, and more expertise in company structure than China. China's other advantages include more students studying in the field so it has access to more talent, smart people can do well in the high tech industry, and the Chinese government has put much effort into developing outsourcing in the past 10 years.

India's main market is the USA; Japan is China's biggest consumer -- a much bigger market. The shift now is to Europe, Australia, and North America.

Question for Mr. Jiang: What do you look for when you want to do business with a USA company? Answer: Co-operation with overseas companies. USA is the biggest market in the world. Personally, I don't understand the corporate culture well, but we want to co-operate with small business in America. We need to learn to communicate, and it is easier when companies have some Chinese employees. We must learn to be more straightforward, which is not the Chinese way. We need better language skills -- we are not always able to express a great technical idea as well in English.

Technology, marketing, and management are the three important things for Hunter.

Respectfully submitted,
Jeanne Gonnason
---

Delegates and guests met for lunch at a riverside restaurant nestled between a botanical garden and the Li river. After eating, the delegates had an hour to relax and stroll the paths through the gardens which are famous for their cherry trees.

The relaxed atmosphere of our meetings in Guilin is complemented by the lovely surroundings – rivers, limestone mountains, beautiful farmland. Unlike Beijing, where party functionaries and government officials participated in our meetings, we are one-on-one with our hosts in Guilin, especially this afternoon with the Guilin Programmers' Association at the Osmanthus Hotel.


We are greeted by ten programmers, eight men and two women, who all appear to be in their twenties and thirties. During introductions, we learn that all are university graduates, some from Guilin and Hunan universities and at least one from Peking University, and some of those also have graduate degrees. We are seated around a rectangle of tables, each place equipped with a steaming mug of osmanthus tea. The windows are open and birdsong drifts into the room while we talk.

The Programmers' Association includes about 180 members in a non-profit club established just last December, with help from Microsoft. It is open to programmers in Guilin and the surrounding province. Its goals are to offer a platform for sharing and learning about new technology, and to safeguard the rights of programmers. They hold lectures, seminars, and parties to exchange ideas, and have exchange programs with various universities.


After exchanging introductions, we get down to a very interesting question and answer session. As in previous meetings in China, it is obvious early on that technical communication is basically an unknown field to these young programmers, who usually write their own documentation if any is required. They have done some research on the web, and could not find much on tech comm in China. Jeanne Gonnason pointed out to them that acupuncture charts, a form of technical communication, have been used in China for thousands of years.

We shared our varied roles as technical communicators, while the club members tried to relate those to their own experience. We gave examples of traditional and innovative doc development cycles, of using wikis to deliver application documentation, and using the Agile development methods, in response to their questions about how the tech comm process works in typical companies. One club member shared the story of his experience reading manuals from American products, and compared them to documentation written by developers in China. He found the American manuals to be more interesting and better to read, while he observed that Chinese developers write in a "regular form", giving step by step instructions. He worked on a project that required him to support his customers by going to their sites and guiding them step by step through procedures, in the absence of user documentation.

Through the afternoon, we STC delegates had mentioned several times how important it is to get user input before writing the product's documentation, and to get customer feedback after the product and documentation have been released. Finally we were asked, how do technical communicators know what the users want? How do we gather that information? We answered by giving examples of social research methods, usability studies, talking to help desk anad service personnel, gathering customer requirements from sales staff, and conducting web surveys both before and after products are delivered. Our hosts looked like they were taking a lot of notes on these new suggestions.

After more than two and a half hours, we ended our exchange when Linda presented the club president with a People to People award, and then we had a flurry of picture taking, business-card trading, and more animated conversations that lasted until the bus carrying the P2P delegates pulled away from the curb. What a lively and stimulating afternoon! These programmers represent the future of software development in China, and we will find a way to continue to communicate with them.

Respectfully submitted,
Jenny R. Redfern
Current Location: Guilin, China
Current Mood:
optimistic

Oct. 26th, 2008 04:07 pm Gorgeous Guilin!




Posting for October 26!

Delegates and guests spent a very exhaustive day in the Guilin area.

We arrived at the Zhuyiang Wharf in the morning for a boat cruise on the Lijiang River. The Lijiang River winds through some of the most magical and fantastic karst rock formations, that was made even more magical and fantastic this morning by the light, drizzling rain and mists.

Karst is a unique landscape formed by the underground erosion of rocks, such as limestone and marble, that dissolve in water. Rainwater, made acidic by carbon dioxide from the atmosphere and soil, slowly infiltrates cracks in limestone and marble, dissolving the rock and enlarging the openings. It takes millennia to create karst landscapes, and the Guilin one is strikingly beautiful.

As we cruised along the river, the local people on rafts made of bamboo pulled along side our fast-moving, flat-bottomed boat and sold us fish, snails, shrimp, crabs, and water chestnuts. They also brought jade carvings, fans, and even crystal rocks for sale. There was lively discussion about a purple crystal rock that was purchased: was it amethyst or was it glass? No-one really knows for sure.

After a delicious lunch, we ended the cruise at Yangshuo village. Here we were greeted by fisherman offering to let us have our picture taken with their Cormorants, medium to large sized fishing birds. Locals have historically exploited Cormorants' fishing skills. A snare is tied near the base of the bird's throat, which allows the bird to only swallow small fish. When the bird captures and tries to swallow a large fish, the fish is caught in the bird's throat. When the bird returns to the fisherman's raft, the fisherman helps the bird to remove the fish from its throat. The subsequent 45 minute shopping frenzy was not slowed down by the rain. Good bargains were to be had by all.

On the way back, we stopped at a small village belonging to the Zhuang ethnic minority. We were allowed to enter the house of an elderly village woman, who graciously allowed us to take photographs of her old house in typical Zhuang style. As we toured, our guide Tan explained the significance of the mirror over the door (to make evil spirits reveal their true forms) and shared other information about the lifestyle of the Zhuang. We learned of the charming custom of throwing "Lover Balls" or "Embroidery Balls" http://www.guilintourist.com/Guilin-guide/Local-Customs.asp. To share on the bus, delicious pomelos were purchased, though to some these would be an acquired taste.

As we drove to our next stop, our enthusiastic and knowledgeable guide Tan shared stories about Zhuang life, and the story of Liu Sanjie or "Third Sister Liu" was very moving. Here is a link to the tale: http://www.guilintravelguide.com/culture/liu-sanjie.html.

Our last stop was the South China Peal Museum (http://pearldiscovery.com/museum.htm), which is a large state-owned company. We learned how to tell real pearls from fake and the difference between freshwater and saltwater pearls. And we did shop...a lot! The day was now over, and our time was our own. A group dined at the nearby Happy Valley restaurant recommended by our guides, and another group settled for American style food at our hotel. We retired, ready for another day in China.

Happily submitted by,
Debbie Davy

Current Location: Guilin, China
Current Mood:
pleased

Oct. 25th, 2008 11:23 pm Goodbye Beijing, Hello Guilin

Goodbye Beijing, Hello Guilin
Saturday, October 25th

As we prepare to leave Beijing, the mood is bittersweet. Through our meetings at Peking University, the Beijing Association for Science and Technology, and DOT, we developed guanxi (pronounced "gwan shee"). Guanxi means social connections. I believe that I can speak for the delegation when I say that we were sad not to have had more time for face-to-face interactions. But we also were excited about the guanxi that developed and the opportunity to visit legendary Guilin for more guanxi. Guilin is said to be located in one of the most beautiful areas in China.

Before heading to the airport, we had the opportunity to see one more historical site -- Tiananmen (translation: Gate of Heavenly Peace) Square. We could not actually walk inside the square as originally planned. The 7th Asian European Summit was taking place inside, so we walked along the sidewalk across the street from the square with hundreds of people from many nations.

Our city guide, Richard, pointed out key places such as The famous Gate of Heavenly Peace and the Great Hall of the People. Richard, who is extremely knowledgeable about Chinese history, enthusiastically rattled off more historical facts than this delegate could remember.



Gate of Heavenly Peace
The Great Hall of the People

But I don't think I am the only delegate who did not retain every single detail that Richard gave us during our tours of Beijing. On the bus ride to Tiananmen Square, Richard asked us, "When the Forbidden City was the imperial palace, who could enter the East Gate of the Forbidden City?" Lots of mumbles were heard, but no definitive answer. In case you are wondering, the answer is that civil officers entered through the East Gate.
After our tour of Tiananmen Square, Richard offered more interesting facts including:
· Each denomination of currency for the People's Republic of China shows a different scene on the back side. We learned that the back side of a 100-yuan bill features the Parliament building that we had just seen in Tiananmen Square. A 50-yuan bill shows Tibet. On the back of a 10-yuan note, you'll see the Yangtze River. The 20-yuan bill shows legendary Guilin.
· The soldiers that we saw throughout Beijing are not drafted. They volunteer to serve. All are between the ages of 18 and 22. According to Richard, these men like to volunteer because they "receive food, a uniform, and a good pension."
· A section of the city wall from the Ming Dynasty is visible today in Beijing. On the drive to the airport, we saw a section of this wall that was part of the moat.
· The concept of the hutong, the traditional Chinese courtyard residence, originated in Mongolia and today only survives in Beijing. The younger generations prefer living in an apartment to a hutong because an apartment offers more privacy. Older generations, however, miss the sense of community offered by hutong living. They feel uncomfortable with the fact that apartment living encourages people to close their doors and not get to know each other, not even those who live next door.
At the airport, we said farewell to Richard and our driver, Leo, whom the delegation designated as the #1 bus driver in Beijing.
Our national guide, Shawn, collected our passports and helped us navigate our way through both the Beijing and then the Guilin airports. His help is essential and invaluable in everything we do.
The actual flight from Beijing to Guilin took about 3 hours. During this time, I thought about my discussion with Linda, our delegation leader, the previous night. We had talked about how we can continue the guanxi developed in Beijing. Ideas that we discussed included helping the people with whom we met start an STC China Special Interest Group (SIG), corporate sponsorship to help cover membership dues, and teleconferencing to continue our discussions.
Before I knew it, we had landed in Guilin. It felt as if we had landed in Miami. Outside the airport, there were even sculptures of palm trees to capture the subtropical atmosphere. Equally as warm was our city guide for Guilin, Tan (rhymes with the Jamaican pronunciation of "man").
Respectfully submitted,
Paula Ludmann
Technical Writer
American Academy of Dermatology
Oct. 24th, 2008 11:23 pm Blog Entry for Friday, October 24, 2008





Today we were scheduled for meetings with the Cyber Recreation Development District (CRD) from the Digital Industry Development Base at Shijingshan District of Beijing, about a 50 minute bus ride from our hotel.


As has been the case at previous meetings we were greeted warmly and entered a building that was clearly designed to transport workers from this planet into a new paradigm. Walls were circular/tubular, white and gleaming. We were presented with organizational structure and product definition for CRD.


Meeting rooms were within concentric circles, with seating in modular form so as to be easily rearranged. Main participant seating was a small circle in front for the primary participants, and an S-curve around the semi-circle for the less important participants. Behind that were rows of normal style seating for attendees from all over China.


The program started with a warm welcome from the podium and "Star Wars" type music, And introductions by Tong Changjian, the leader of CRD. The music was meant to be fun, and it was, although there seemed to be some technical challenges. CRD has formed several associations and is government sponsored (www.crd.gov.cn).


Within the government sponsored environment, along with CRD, there are several small companies, including a very strong one with a small gaming company. Through the gaming company and through CRD's own efforts, they have developed several fascinating digital programs including one called DotMan, a virtual environment that is very similar to Second Life. The difference in DotMan seems to be that CRD has solved two big problems that Second Life has: one is the time it takes to build an avatar. The avatar building is enabled through several shots of pre-made graphics and the user can choose from the shots to build an avatar quickly. The second problem is that of security. Second Life only promises that security is enabled by building a remote island and hosting that island on a separate server. It still suffers from impromptu visitations. DotMan is hosted on individual platforms from behind the firewall f the platform, virtually eliminating the security issue.

From the Tech Comm delegation, Kent Taylor did a presentation entitled "Technology for Information Quality Management," which introduced the product "Acrolinx." Acrolinx is a software program produced by the German Research Institute for Artificial Intelligence (DFKI). It is, indeed a very smart program, assisting the QA analysis of documents to evaluate and highlight style errors, grammar errors, and unnecessary modifiers and redundancies that are so expensive for localization and translation. The program is available in several languages, but will not be available for Chinese until sometime in 2009.

We took a tour of the little gaming company (We were unable to take notes because we were touring and carting around tons of gear. Perhaps one of my colleagues can supply the company name.). It is about 3 years old. They currently have about 130 employees, all of whom work onsite in 8 small "studios," with what looked like about 20 people in each of the 3 we saw. The studios are separated by function, whether graphics, storyboard, programming or what ever. In three short years, the young people of this company have produced and distributed over 100 mobile games for cell phones. The games look similar to ones we've seen in the U.S., although we were unable to see a game in its entirety due to time constraints.
The visit was fascinating, and was followed by a huge lunch and the trip to the Forbidden City. The Forbidden City is a compound of buildings all very much looking alike. It follows the rules of Feng Shui (sp?), with a North, South, East and West gate. Between the North gate and the South gate, you will walk approximately two miles. On the south side of the compound are all the "work" buildings for the Emperor and ministers. On the North side are the buildings for living, including a gorgeous garden. Pictures will be uploaded to this blog for visual pleasure!


If the day had not been packed enough, we followed the tour of the Forbidden City with a visit to a performance of Shaolin Monks. It was colorful and interesting, full of Kungfu mastery. To see these incredible masters in motion, check out this video: www.youtube.com/watch

At about 10:00pm we wearily peeled ourselves off the bus to grope our ways to our beds, with instructions to have our bags ready for pick up by 7:30am the following morning. Whew!


Respectfully submitted,

Sherry Michaels
Current Location: Beijing

Oct. 23rd, 2008 11:23 pm


Thursday, October 23, 2008 AM
Ann Whitesell

Thursday bright and early we started out for our first professional meeting at Beijing University. I was a little apprehensive about this first meeting, and I think I was not the only one. Later I'd look back and think how silly I was to worry.

The bus turned into Peking University and passed by ivy-covered walls and lanes crowded with students riding bicycles or on foot, much like any U.S. campus except for the pagoda-style tiled roofs on most buildings. Soon our progress was stalled by a red banner that was draped across the road, but our driver quickly cut one end and got us back on our way. Shawn told us the banner said "Welcome Technical Communications Delegation."

As we arrive at the building where our meeting will be held, they are literally rolling out the red carpet under another huge red banner. Professor Lai is in front to meet us, and we feel very important until Shawn confesses that the banner and carpet are really for the president of Indonesia, who is also visiting today.

We took a group picture in front of the building and photographers were taking pictures almost the whole while we were there.

Inside, the meeting begins with introductions of the people at Peking University who represent all of the areas in the School of Information Management. Linda, as leader of our delegation, then introduces each of us with a description of our work and where we live.
We hear a brief introduction to the School of Information Management, which was established in 1947 and is a key program supported by both the Beijing and Chinese governments. It has educated many students who are now successful in business or government, including the vice-minister of the Chinese Information Ministry and the CEO of Baidu, the Chinese Google.
Professor Lai gives us a warm welcome and describes the Committee for Science and Technical Communication of the Chinese Society for Sci-Tech Journalists. The committee was established in 1995 to evaluate the state of Technical Communication at the turn of the century and determine its progress in the future.
Linda gave a presentation on STC, covering its history, scope, and activities. She stressed that while our membership is small now, we are a growing global organization, and we support the profession for all technical communicators the world over.
John Martin gave a presentation on his experience with the Masters program in Technical Communication at North Carolina State University. He focused on why he returned to school, the curriculum and faculty, and the experience of working while going to school.
For another view, Debbie Davy spoke next about her distance learning experience in the Mercer University Master of Science in Technical Communication Management program. She chose the program because there was nothing suitable in her local area, and she was impressed that Mercer offered an MS. Assignments include "real work" projects, and students come to the program from all over the world. Mercer is now developing a PhD in Science program for Technical Communications.
The next speaker talked about the emerging role of the Chief Information Officer in Chinese corporations. He believes that leadership requires good communication skills. The CIO's job is to turn technical information into business information. The CIO is a new idea in China and there is no structure for the position, but it is slowly getting more recognition.
Mr. Wang Fuguo then spoke about Selling Information Technology to the Organization. He believes that IT must promote its value to employees by increasing its visibility. The way to do this is to use a common language and employ the business case model when communicating with executives. This means using understandable terminology consistently and keeping IT lingo in the IT department.
The final presentation by Ms. Liu Jing was on Designing Information in China. She demonstrated a wonderful virtual museum site (e-museum.com.cn) designed specifically for the Chinese "netizen." The design team created an information architecture geared toward optimizing the user experience. They have quality goals and measurements to evaluate their success. Ms. Liu represents the Visual Information Communication Department chaired by Professor Jung Hao Da.
After this meeting, delegates and university representatives continued a lively discussion over lunch at a restaurant on the campus. The highlight of lunch was a dish called Tower Library Lake that depicted the centerpiece of the University campus. The tower was beautifully sculpted from a huge carrot, the library was built of tofu, and a tasty mountain of marinated pork piled on pork ribs arched over the lake.


On our way out of campus, the bus passed by the real scene. It was hard to decide which was most beautiful.

Submitted by
Ann Whitesell

Oct. 23rd, 2008 09:01 am StarLog: Thursday, October 23, 2008, afternoon meetings...

Note to our readers: Some P2P delegates have had difficulty connecting to this blog from their laptops while in Beijing. We may be able to fill in those entries at a later date.

Beijing, Thursday afternoon: a lunch to remember, and then the Beijing Association for Science and Technology

After our morning meeting at Peking University, our hosts brought us to a campus restaurant for lunch with Professor Lai, other professors, and several students from the Department of Information Management. We were seated at round tables, each with a lazy susan in the center. And then, wait staff began bringing dish after dish of amazing food, some of it quite spicy (three kinds of chilis used to flavor some of the dishes). We counted them up: four vegetables, eight meats, one noodle, one steamed bun, and two desserts, and each dish had its own presentation. The most remarkable was the roast pork: sculpted into a bridge, and served on a platter with a carrot carved into an ornamental tower, and daikon carved into a book - all symbols of the campus: one tower, one library, and one lake.

I was seated between our guide/translator, Shawn, and our host, Professor Lai, and thus had the opportunity to ask Professor Lai followup questions to our meeting. Professor Lai Mao-sheng is head of the Department of Information Management at Peking University and a leading member of several professional associations in China.

J. Redfern: Professor Lai, did you learn something new from this morning's presentations?

Professor Lai: We have two very different ideas about technical communications. In China, technical communications is more about communicating with the people. [Note: I think that Professor Lai was referring to the many Chinese tech comm students who are prepared to work in digital media and in science and health journalism.] In the U.S., technical communications is about communicating about products in technology and business.

J. Redfern: Have you worked in industry, besides teaching at Peking University?

Professor Lai: No, I graduated from Peking University, and have been teaching here ever since. Some years have been difficult. In the 1980s, Chinese businesses and industry began to grow, and to make attractive offers to our students. For several years, more of our graduates would go to work in industry rather than return to the university to obtain graduate degrees.

Professor Lai: How has the recent economic news affected you?

J. Redfern: Many of our companies are concerned that their customers will cut back on IT spending and on the products that our companies produce. We are confident that the economy will recover, but in the meantime this adds some uncertainty to our jobs.

After lunch and a brief tour of the campus, we were bused to the Beijing Association for Science and Technology, and were escorted to an elegant wood- and linen-paneled conference room. Our Chinese hosts and translators and our delegation were seated around a long, U-shaped conference table with individual microphones. I was seated next to Ms. Du Yang. All of us were provided with large mugs of tea and beautiful plates of fruit to sustain us through the presentations.

Professor Lai, who is vice chairman of BAST, began the introductions, followed by Mr. Zhao Jilin, who began by showing us a professionally-produced video of BAST's various efforts, such as the Beijing Academic Exchange Month, the advisory council to the Beijing municipality, international academic exchanges, and projects to grow talent in science and technology. BAST is a non-governmental agency for scientists and engineers in the Beijing municipality, with these goals:
To serve as a bridge between the scientists and technologists, and government.

To popularize science with the lay community, especially students of all ages.

To develop international academic exchanges.

To serve as a scientific think tank for local government agencies.
Their Youth Science and Technology Innovation Contest is an example of their programs
http://www.ebast.net.cn/ebast/qsnkj/97970.shtml
Linda followed Mr. Jilin with an overview of STC, its membership, and current activities. After Linda, delegate Paula Ludmann, technical writer with the American Academy of Dermatology, presented a perspective on the importance of technical communication in medicine and health disciplines. Answering the question, "Why have a technical writer in medicine?", Paula answered with an example: Between 2001-2003, 39% of Americans diagnosed with melanoma used the web to research their disease. By 2006, 95 million adults in the US used the web to obtain health information, but did not always get the best available advice. This is where technical communicators can make a difference, by making dense medical texts and jargon accessible to those seeking advice and options.
Paula gave ten reasons why tech writers should develop medical content. We know how to:
Work with SMEs, and how to ask questions and edit the answers for understandability.

Write for the web and for the audience, producing short scannable text.

Research and fact check.

Edit for the audience's level of comprehension.

Organize content for easy online use.

Build webpages that load quickly on multiple platforms.

Write <meta> tags for top Google results.

Use tracking software to find out what people are looking for and what pages are popular or not.

Conduct user research, usability studies, field observations, heuristic evaluations.

Keep current on web technologies, such as blogs and YouTube videos.
The BAST members and Peking University representatives were very impressed and interested in Paula's presentation, especially because China faces a huge challenge to bring urgent health education to a huge population spread over a vast country. Our Chinese hosts asked many questions about how technical writers in STC know so much about preparing content for web searches, about the abilities and skills that make for successful job candidates in tech comm, and about opportunities to form alliances with technical communicators in medical fields in the U.S. We had an extended and lively discussion, and all participants thought it was quite a successful exchange for everyone.
After a group photo, the People to People delegation headed back to our hotel to freshen up and enjoy a very tasty dinner at a restaurant specializing in Peking duck. We are definitely over our jetlag!
Respectfully submitted,
Jenny R. Redfern (Sun Microsystems, Inc.)
People to People delegate, Society for Technical Communication